Lesser Wizard's Robe

41 Armor
+8 Intellect
+5 Spirit
Durability 70 / 70
Requires level 22
Lesser Wizard's Robe is crafted by Tailors with a minimum skill of 135.
The recipe for this item is taught by tailoring trainers.
The same model is used for many Mage NPC's in Dalaran, combined with the Tabard of the Kirin Tor.
External links
Edit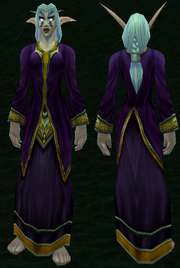 Ad blocker interference detected!
Wikia is a free-to-use site that makes money from advertising. We have a modified experience for viewers using ad blockers

Wikia is not accessible if you've made further modifications. Remove the custom ad blocker rule(s) and the page will load as expected.