"The only thing worse than a ball of living flame is four of them." - Grumpherys [1] (

TCGMC 37

)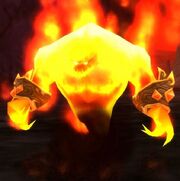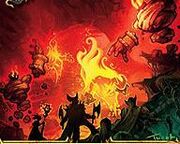 General info
Edit
Found in Molten Core. Also called 'Pain Packs', these can consist of 4 different type of mobs, each with a different ability. Only the rock elementals can be banished.
These are probably the hardest Trash Mobs in MC. They can wipe a raid easly if they are not controlled right. So it is important to have some distance between the tanks and warlocks to the rest of the raid (at least 20 yards). Let the tanks get their targets, and face them away from raid, and only then start DPSing.
Lava Packs always contain one Flameguard and one Firewalker, and either a Lava Reaver or two Lava Elementals. It is very important that the Firewalker and Flameguard AOEs not be allowed to overlap. The main tank is usually assigned to hold the Flameguard facing away and some distance beyond the party, while the off-tank holds the Firewalker and the Lava mobs are banished by a Warlock. The Firewalker is killed first, followed by the Flameguard, and finally each of the banished Lava Reavers or Lava Elementals. It is helpful to delay the banishing until 5-8 seconds after engaging the pack, so the reaver/elemental tanks have time to get aggro on their adds. If you fail to do this, the adds will come unsummoned and rampage through the raid until the tank grabs them again.
Lava packs are on a 2 hour respawn timer.
Ad blocker interference detected!
Wikia is a free-to-use site that makes money from advertising. We have a modified experience for viewers using ad blockers

Wikia is not accessible if you've made further modifications. Remove the custom ad blocker rule(s) and the page will load as expected.