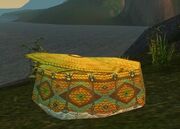 Lard's Picnic Basket is located in The Hinterlands. [84.5, 41.3]
Objective of
Edit
Interacting with this basket will summon two

 [49] Vilebranch Kidnappers, which when killed will have [Lard's Lunch] for the quest

 [49] Lard Lost His Lunch.
Patch changes
Edit
The mobs summoned was lowered to two (from three) sometime prior to patch 3.2.0.
External links
Edit
Ad blocker interference detected!
Wikia is a free-to-use site that makes money from advertising. We have a modified experience for viewers using ad blockers

Wikia is not accessible if you've made further modifications. Remove the custom ad blocker rule(s) and the page will load as expected.