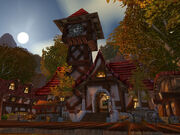 The Lakeshire Town Hall in the Redridge Mountains is an old building that has been diligently refurbished several times. It is commonly the seat of rule by the local magistrate, and the current magistrate, Solomon, is a kind and wise ruler. The town's problems with gnolls and Blackrock orcs has put him in a state of desperation, however, and he readily accepts aid from helpful adventurers.
Ad blocker interference detected!
Wikia is a free-to-use site that makes money from advertising. We have a modified experience for viewers using ad blockers

Wikia is not accessible if you've made further modifications. Remove the custom ad blocker rule(s) and the page will load as expected.