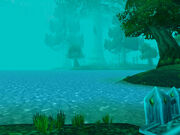 Lake Elune'ara is a large body of water in Moonglade. It is the largest lake on the continent of Kalimdor.[citation needed]
The mad demigod Omen, defeated many centuries ago, yet resides in Lake Elune'ara.
Young druids must find relics on the lake's bottom early in their quest to learn their Aquatic Form.
Ad blocker interference detected!
Wikia is a free-to-use site that makes money from advertising. We have a modified experience for viewers using ad blockers

Wikia is not accessible if you've made further modifications. Remove the custom ad blocker rule(s) and the page will load as expected.