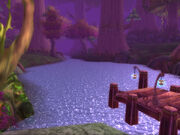 Lake Al'Ameth is the largest body of water existing in Teldrassil aside from the great pools of Darnassus. The lake is located south of Dolanaar. Lately, many enraged timberlings have been sighted on the shores of the lake, and it is no longer safe.
Quest givers
Edit
Ad blocker interference detected!
Wikia is a free-to-use site that makes money from advertising. We have a modified experience for viewers using ad blockers

Wikia is not accessible if you've made further modifications. Remove the custom ad blocker rule(s) and the page will load as expected.