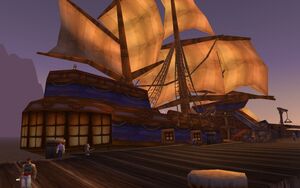 The Lady Mehley is a human crewed vessel that allows transportation between Menethil Harbor and Theramore.
Schedule
Edit
Was named after Blizzard Dev "Stash" Torgoley's daughter.
Patches and hotfixes
Edit
0200

/0300
Patch 3.0.2 (14-Oct-2008): The crew has returned.
0100
 Hotfix (2007-12-06): Crew removed, due to problems.
0200

Patch 2.3.0 (13-Nov-2007): A crew was added.