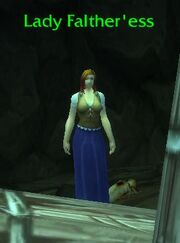 Lady Falther'ess is a level 40 elite Scourge banshee found in Razorfen Downs during the Scourge Invasion. She initially appears as a friendly imprisoned female human, but she can be tracked as a friendly undead. Once she is released from her prison she transforms into her banshee form and becomes aggressive.
Notable Loot

Item Level

41

30 Armor
+9 Intellect
Requires level 36
Equip: Increases spell power by 9.
Thank you for becoming my next victim!
External links
Edit