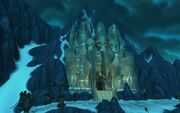 Kul'galar Keep is a vrykul fortress built into the mountains near Balargarde Fortress in western Icecrown. Within it reside the oracles of Jotunheim who receive orders from their master and scry upon others through the Eye of the Lich King.
Ad blocker interference detected!
Wikia is a free-to-use site that makes money from advertising. We have a modified experience for viewers using ad blockers

Wikia is not accessible if you've made further modifications. Remove the custom ad blocker rule(s) and the page will load as expected.