Not yet released!

* This article or section includes information about announced content that has not been released

yet.

The expected release date is

unknown

.

Please remove this template when the content has gone live.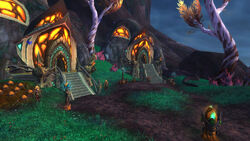 Kri'vess is a large mantid hive whose area takes up much of the contiguous northwest region of Townlong Steppes. The mantid have begun an attack on the yaungol village to the north, Fire Camp Gai-Cho, a line of attackers at its border.
Inhabitants
Patch changes