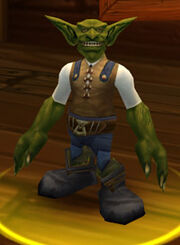 Krazek[43.1, 23.6] is a goblin quest giver for the Alliance found at Nesingwary's Safari in Northern Stranglethorn. Prior to the
Cataclysm he was located in the Salty Sailor Tavern in Booty Bay. He describes himself as secretary to Baron Revilgaz, and has been involved in manufacturing mechanical cooking pots under the brand [Krazek's Crock Pot].
Removed quests
Edit


Note: These quests are no longer associated with this particular mob/NPC/item.
Patch changes
Edit
Patch 4.0.3a

(2010-11-23): Moved from Booty Bay; quests changed.

External links
Edit
Ad blocker interference detected!
Wikia is a free-to-use site that makes money from advertising. We have a modified experience for viewers using ad blockers

Wikia is not accessible if you've made further modifications. Remove the custom ad blocker rule(s) and the page will load as expected.