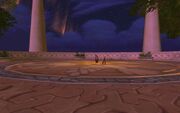 Krasus' Landing (formerly known as Dalaran Landing in beta) is an area of eastern Dalaran, presumably used by, or simply named for, Krasus, the Kirin Tor identity of the red dragon Korialstrasz. This is also the location of Dalaran's flight master.
Prior to the 0400

Cataclysm, this was the only portion of Dalaran where players could use a flying mount.
Ad blocker interference detected!
Wikia is a free-to-use site that makes money from advertising. We have a modified experience for viewers using ad blockers

Wikia is not accessible if you've made further modifications. Remove the custom ad blocker rule(s) and the page will load as expected.