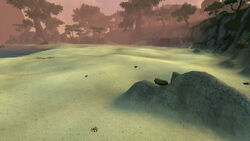 Krasarang Cove is the stretch of beach due south of Zhu's Watch in the Krasarang Wilds. South west of this is another beach, Turtle Beach. Within the cove is a small cave known as Seaspittle Nook.
In Patch 5.1.0, the Alliance quest hub of Lion's Landing will be located here.
Inhabitants
Edit
Seaspittle Nook is virtually identical in appearance to the Crane Monks' cave at the Peak of Serenity in Kun-Lai Summit.
Patch changes
Edit
External links
Edit
Ad blocker interference detected!
Wikia is a free-to-use site that makes money from advertising. We have a modified experience for viewers using ad blockers

Wikia is not accessible if you've made further modifications. Remove the custom ad blocker rule(s) and the page will load as expected.