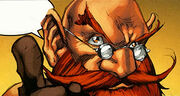 Krank Axeljink was a gnome from Tinker Town, chosen to be a gnomish representative to the New Council of Tirisfal. He invented a device that would draw power from the other council members into their chosen representative (which would, of course, be himself). When Cho'gall's elementals attacked Theramore Isle, he proclaimed that the time to use his device had come. Though Meryl Winterstorm felt the device would be utterly useless, Aegwynn said that they had little to lose and the council tried it anyway. The device exploded, apparently killing Krank.
Ad blocker interference detected!
Wikia is a free-to-use site that makes money from advertising. We have a modified experience for viewers using ad blockers

Wikia is not accessible if you've made further modifications. Remove the custom ad blocker rule(s) and the page will load as expected.