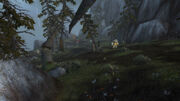 Koroth's Den[48.3, 85.4] is the home of the dangerous ettin, Koroth the Hillbreaker. The hill is found roughly southwest of the Stagecoach Crash Site, accessible via a steep, winding path up the side of the mountain that is littered with bones. This is presumably where Koroth descended from when threatening the horses at the Crowley Stable Grounds just after the first waves of the Cataclysm hit.
Inhabitants
Edit
Worgen starting experience only.
Patch changes
Edit
External links
Edit
Ad blocker interference detected!
Wikia is a free-to-use site that makes money from advertising. We have a modified experience for viewers using ad blockers

Wikia is not accessible if you've made further modifications. Remove the custom ad blocker rule(s) and the page will load as expected.