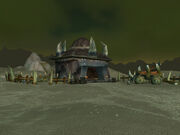 Kormek's Hut is a small hovel in north-central Desolace[62, 39]. It is currently inhabited by Willow, formerly of the Twilight's Hammer, and Bibbly F'utzbuckle who greatly enjoys dancing around in the pen outside. Judging by the hut's architecture and by the linguistic feel of Kormek's name, it is likely that he was a centaur, possibly of a rogue affiliation. Willow no doubt chased him off in order to secure the hut for herself. Kormek may be the Centaur Pariah, who is homeless and roaming around southern Desolace.
Ad blocker interference detected!
Wikia is a free-to-use site that makes money from advertising. We have a modified experience for viewers using ad blockers

Wikia is not accessible if you've made further modifications. Remove the custom ad blocker rule(s) and the page will load as expected.