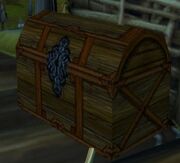 The Kolkar's Booty is located within centaur camps in the Northern Barrens. This chest can only be opened using the
 [Kolkar Booty Key], that was taken from a random centaur in the area.
Guaranteed 1-3
 [Haunch of Meat], as well as items from levels 11-26.
This may include:
Locations
Edit
Kolkar's Booty locations in Northern Barrens
External links
Edit
South ones

North one
Ad blocker interference detected!
Wikia is a free-to-use site that makes money from advertising. We have a modified experience for viewers using ad blockers

Wikia is not accessible if you've made further modifications. Remove the custom ad blocker rule(s) and the page will load as expected.