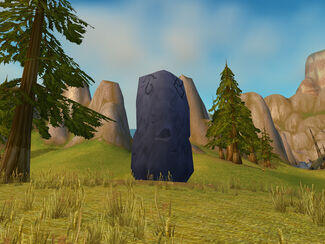 Kodo Rock at [54, 80] is a natural monument near Camp Narache that Tauren Shamans need to go to for one of their early quests. The rock can only be seen from a short distance so you will need to pay attention.

To get there, travel from Camp Narache directly towards the Brambleblade Ravine and it will be located about halfway along the direct line. A small dirt area should be seen on the minimap to pinpoint it.
Ad blocker interference detected!
Wikia is a free-to-use site that makes money from advertising. We have a modified experience for viewers using ad blockers

Wikia is not accessible if you've made further modifications. Remove the custom ad blocker rule(s) and the page will load as expected.