The subject of this article was either removed from World of Warcraft or is no longer available due to the devastating Cataclysm.

The in-game information in this article is kept purely for historical purposes and may not need to remain under any other categories.
Kim'jael is a level 46 goblin quest giver located on the top of a hill southeast of Legash Encampment (northwest of Thalassian Base Camp) in the contested territory of Azshara. His real name is not really 'Kim'jael', rather it is a nickname given to him by Magus Rimtori's blood elves. It means 'little rat' in Thalassian.
He starts the following quests:

See List of Azshara NPCs.
External links
Edit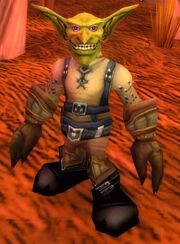 Ad blocker interference detected!
Wikia is a free-to-use site that makes money from advertising. We have a modified experience for viewers using ad blockers

Wikia is not accessible if you've made further modifications. Remove the custom ad blocker rule(s) and the page will load as expected.