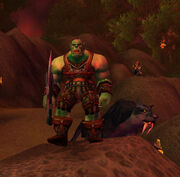 Kilag Gorefang is an orc quest giver first encountered by goblin players at the Vicious Vale[35.5, 75.9] on the Lost Isles. He provides quests at various locations on the Isles, and all Horde players encounter him at the Fold[74.4, 47.6] in Stonetalon Mountains.
Vicious Vale, Lost Isles
 [6] 

Weed Whacker

 [7] 

Back to Aggra

 [6] 

The Vicious Vale
Wild Overlook[34.6, 66.8], Lost Isles
 [7] 

To The Cliffs

 [7] 

Forward Movement
Tranquil Coast[33.8, 38.8], Lost Isles
 [9] 

Let's Ride

 [9] 

Borrow Bastia
The Fold, Stonetalon Mountains
Patch changes
Edit
External links
Edit
Vicious Vale
Wild Overlook
Warchief's Lookout
The Fold
Ad blocker interference detected!
Wikia is a free-to-use site that makes money from advertising. We have a modified experience for viewers using ad blockers

Wikia is not accessible if you've made further modifications. Remove the custom ad blocker rule(s) and the page will load as expected.