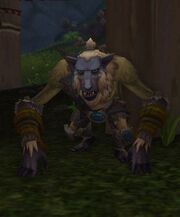 Ken-Ken is a recent hozen graduate of the Tian Monastery in the Jade Forest. He and his friends Xiao, Lin Tenderpaw, Kang Bramblestaff, and Clever Ashyo are on a quest to find the "Hidden Master".
One of the locations Ken-Ken can be found is at
Pang's Stead
[82.9, 20.3]
in the
Valley of the Four Winds
. The friends split up to cover more ground, and Ken-Ken finds his way to
Zhu's Watch
[76.7, 8.6]
in the
Krasarang Wilds
where he also serves as a
quest giver
. He assists in breaking the Watch out of a deep despair using a string of old hozen remedies.
Ken-Ken's relationship with Ashyo is shaky, at best, given that Ashyo is of the rival jinyu race.
Objective of
Edit
Patch changes
Edit
External links
Edit
Ad blocker interference detected!
Wikia is a free-to-use site that makes money from advertising. We have a modified experience for viewers using ad blockers

Wikia is not accessible if you've made further modifications. Remove the custom ad blocker rule(s) and the page will load as expected.