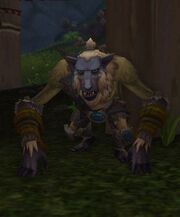 Ken-Ken is a recent hozen graduate of the Tian Monastery in the Jade Forest. He and his friends Xiao, Lin Tenderpaw, Kang Bramblestaff, and Clever Ashyo are on a quest to find the "Hidden Master".
One of the locations Ken-Ken can be found is at
Pang's Stead
[82.9, 20.3]
in the
Valley of the Four Winds
. The friends split up to cover more ground, and Ken-Ken finds his way to
Zhu's Watch
[76.7, 8.6]
in the
Krasarang Wilds
where he also serves as a
quest giver
. He assists in breaking the Watch out of a deep despair using a string of old hozen remedies.
Ken-Ken's relationship with Ashyo is shaky, at best, given that Ashyo is of the rival jinyu race.
Objective of
Edit
Patch changes
Edit
External links
Edit