Ad blocker interference detected!
Wikia is a free-to-use site that makes money from advertising. We have a modified experience for viewers using ad blockers

Wikia is not accessible if you've made further modifications. Remove the custom ad blocker rule(s) and the page will load as expected.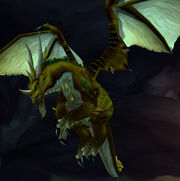 The Keepers of Time is a faction in the Caverns of Time. They are led by Andormu and Nozari, who are also acting leaders of the bronze dragonflight in Nozdormu's absence.
Reputation
Edit
 
Neutral
Friendly
Honored
Revered
Exalted
Rep
Notes
Quests
14020
Instances
Trash: 8-15
Bosses: 80-250
Full clear ~1150 rep
Heroic ~2300 rep
Rift Lords: 50-65
Bosses: 120-250
Full clear ~1115 rep
Heroic ~1725 rep
In the Old Hillsbrad Foothills it is possible to get 1199 reputation by clearing all of the "Durnholde..." and "Tarren Mill..." before activating the events. This is an important note due to the fact that there are a few enemies that will despawn after you have completed the events and killed Epoch Hunter.
Incomplete list of faction items sold by Alurmi <Keepers of Time Quartermaster>:
Note: Two additional quests were available prior to patch 4.3.0, but have since been removed:
Patch changes
Edit
External links
Edit
WoW Official Game Site (US)
Keepers of Time

WoW Official Game Site (EU)
Keepers of Time
Reputation
factions

Burning Crusade
Wrath of the Lich King

Cataclysm

Mists of Pandaria

Warlords of Draenor

Legion