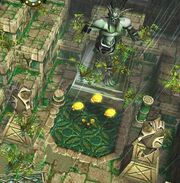 On the north-western isle of the Broken Islands, the Naga had a Keeper of the Storms Shrine to the right of their base. It might also have been a Shrine built by the Night Elves. Maiev blinked there to find this in-game secret in the Warcraft III Frozen Throne map Night Elf number four. There is 1500 in gold coins there.
Ad blocker interference detected!
Wikia is a free-to-use site that makes money from advertising. We have a modified experience for viewers using ad blockers

Wikia is not accessible if you've made further modifications. Remove the custom ad blocker rule(s) and the page will load as expected.