Were you looking for  

Kash'drakor

 <The Legend of Frostwolf> as he appears in the alternate timeline of Draenor?
A famed and legendary orcish warrior on Draenor, Kash'drakor had the axe Serathil crafted for him, and used it in the Blood River War, which came to utterly destroy the Dark Scar clan. Nazgrel, Thrall's advisor, is the last descendant of Kash'drakor.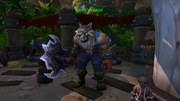 Ad blocker interference detected!
Wikia is a free-to-use site that makes money from advertising. We have a modified experience for viewers using ad blockers

Wikia is not accessible if you've made further modifications. Remove the custom ad blocker rule(s) and the page will load as expected.