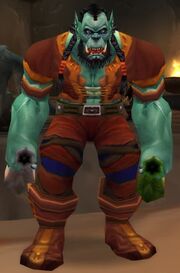 Grunt Karus is an orc soldier stationed at the Bank of Orgrimmar[49.0, 83.6] within the Valley of Strength in Orgrimmar.
Along with his brothers, Koma and Soran, Karus claims to have fought at the Battle of Mount Hyjal.
Removed quests
Edit


Note: These quests are no longer associated with this particular mob/NPC/item.
In Maltese (national language of the Republic of Malta, south of Sicily), the word Karus means Piggy Bank.
See also
Edit
Patch changes
Edit
Patch 4.0.3a

(2010-11-23): Now a grunt, with level increase.

External links
Edit
Ad blocker interference detected!
Wikia is a free-to-use site that makes money from advertising. We have a modified experience for viewers using ad blockers

Wikia is not accessible if you've made further modifications. Remove the custom ad blocker rule(s) and the page will load as expected.