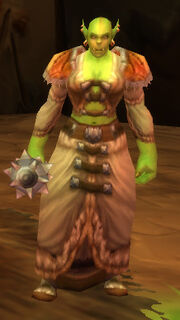 Kardris Dreamseeker is an orc shaman trainer and quest giver located just outside Miwana's Longhouse[39.2, 48.4] in the Valley of Wisdom, in the orcish city of Orgrimmar. She is at the bonfire with the other shaman trainers, Sagorne Creststrider and Sian'tsu, as well as Searn Firewarder.
Patch changes
Edit
Patch 4.0.3a (2010-11-23): Removed from Grommash Hold; quests added.

Patch 1.4.0 (2005-05-05): Kardris Dreamseeker is now being addressed properly as a female, rather than a male.

External links
Edit