This article or section contains information that is out-of-date.

Please replace the old information with up to date information.
This may include rewriting sections to ensure they are clear and concise, and wikifying.
Reason: Needs new coordinates.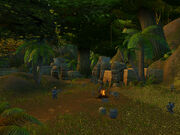 Ruins of Jubuwal [53, 30] are ancient troll ruins, just east of the Gurubashi Arena, along main road that spans the length of the Cape of Stranglethorn (Stranglethorn Vale). Ghoul, naga, and troll minions of Zanzil the Outcast currently inhabit the ruins, including Jon-Jon the Crow and Maury "Club Foot" Wilkins, debtors to the ruthless "Sea Wolf" MacKinley.
External links
Edit
Ad blocker interference detected!
Wikia is a free-to-use site that makes money from advertising. We have a modified experience for viewers using ad blockers

Wikia is not accessible if you've made further modifications. Remove the custom ad blocker rule(s) and the page will load as expected.