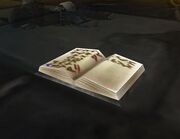 The Journal of Jandice Barov appears after killing Jandice Barov in Scholomance.
It will teach tailors how to make [Felcloth Bags].
For others it reads:
The journal of Jandice Barov is filled with ranting and raving about the undead. Towards the end of the book is what appears to be a tailoring pattern for the creation of a bag of some sort. Your understanding of tailoring is insufficient to decipher the pattern.
External links
Edit