Jin'do's Judgement

Item Level

66

Speed 3.30
143 - 227 Damage
(56.1 damage per second)
+10 Intellect
+10 Stamina
Durability 120 / 120
Requires level 60
Equip: Increases your hit rating by 16.
Equip: Restores 14 mana per 5 sec.
Equip: Increases spell power by 27.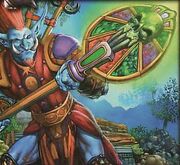 Jin'do's Judgement is a staff that has a very good bonuses for spell casters.
The staff drops from Jin'do the Hexxer in Zul'Gurub.
The staff's estimated drop rate is 8%.
Patches and hotfixes
Edit

Patch 1.7.0 (13-Sep-2005): Added

External links
Edit
Ad blocker interference detected!
Wikia is a free-to-use site that makes money from advertising. We have a modified experience for viewers using ad blockers

Wikia is not accessible if you've made further modifications. Remove the custom ad blocker rule(s) and the page will load as expected.