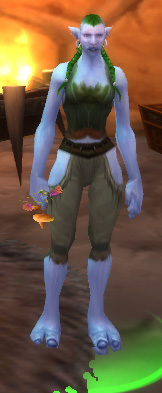 Jandi[34.6, 63.2] is a troll herbalism trainer located in the Valley of Spirits in the orcish city of Orgrimmar. She is found in the same small, one-level hut as the reagent and poison vendor, Zeal'aya.
With Garrosh Hellscream putting the entirety of Orgrimmar under his heavy thumb during Patch 5.4.0, Jandi is temporarily no longer a functional herbalism trainer, although she still has <Herbalism Trainer> under her name. This is due to the close watch of the Kor'kron. Muraga can still be visited for training in the interim.
Patch changes
Edit
Patch 5.4.0

(10-Sep-2013) Temporarily no longer an herbalism trainer.

Patch 4.0.3a

(2010-11-23): Moved from the Drag.

External links
Edit
Ad blocker interference detected!
Wikia is a free-to-use site that makes money from advertising. We have a modified experience for viewers using ad blockers

Wikia is not accessible if you've made further modifications. Remove the custom ad blocker rule(s) and the page will load as expected.