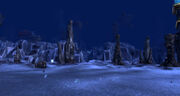 The Jagged Wastes is the name of the area that makes up the lower shelf around the Temple of Earth[49, 52] in Deepholm. It encompasses Quartzite Basin[46.5, 57.4] and the Blood Trail[52.6, 58.4].
Inhabitants
Edit
(Not including sub-areas mentioned above)
General area
Battle area[46.4, 45.9]
(after accepting The Very Earth Beneath Our Feet)
(phases back after A Rock Amongst Many)
Quest givers
  

Earthcaller Torunscar

 <The Earthen Ring>
  

Earthmender Norsala

 <The Earthen Ring>
NPCs
Mobs
Diamant's area[56.5, 41.2]
Patch changes
Edit
External links
Edit
Ad blocker interference detected!
Wikia is a free-to-use site that makes money from advertising. We have a modified experience for viewers using ad blockers

Wikia is not accessible if you've made further modifications. Remove the custom ad blocker rule(s) and the page will load as expected.