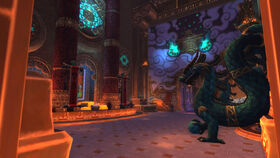 The Jade Vaults is the bank for within the Horde-controlled Shrine of Two Moons in the Vale of Eternal Blossoms. It is located in the western section of the upper floor. Besides bankers, it also contains several guild vaults.
Inhabitants
Edit
  

Vaultkeeper Shifen

 <Banker>
  

Vaultkeeper Kan

 <Banker>
  

Vaultkeeper Goldpenny

 <Banker>
Patch changes
Edit
Ad blocker interference detected!
Wikia is a free-to-use site that makes money from advertising. We have a modified experience for viewers using ad blockers

Wikia is not accessible if you've made further modifications. Remove the custom ad blocker rule(s) and the page will load as expected.