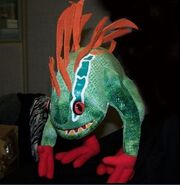 J!NX World of Warcraft Collection are clothing, patches, pins, stickers and other goodies made by J!NX, a clothing brand heavily influenced by gaming and geeky interests,[1] they have the support of Blizzard Entertainment Inc.[2][3][4] and frequently made new articles for sale. Blizzard have given their merchanising as prizes at one time.[5][6] They even release plushies.[7]
References
Edit
External links
Edit

[ Jinx.com] 
J!NX World of Warcraft Shop Gallery
News

WoW Official Game Site (US)
J!NX World of Warcraft Spring Collection is Ready to Wear
by Blizzard Entertainment Apr 17, 2012 10:00 AM PDT
Ad blocker interference detected!
Wikia is a free-to-use site that makes money from advertising. We have a modified experience for viewers using ad blockers

Wikia is not accessible if you've made further modifications. Remove the custom ad blocker rule(s) and the page will load as expected.