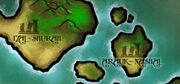 Izal-Shurah was once a great highborne library in the city of Suramar, but now lies in ruins on the Broken Isles. The library has been taken over (or just moved into) by makrura[1] led by a Makrura Tidal Lord, who is found lording it over a pile of seashells.
On visiting the ruins, Maiev Shadowsong is quoted as saying, 'I remember this place. It was once the great Library of Izal-Shurah. There is no knowledge left here, only nightmares and the shadows of regret.'[2]
References
Edit
Ad blocker interference detected!
Wikia is a free-to-use site that makes money from advertising. We have a modified experience for viewers using ad blockers

Wikia is not accessible if you've made further modifications. Remove the custom ad blocker rule(s) and the page will load as expected.