for the quest, see  [11] 

Ironband's Compound

.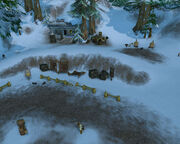 Ironband's Compound lies south of Helm's Bed Lake in eastern Dun Morogh, and is a base of operations for a band of Dark Iron Dwarves who readily assault anyone unfortunate enough to wander too close.
Warriors come to the compound in order to aid a fallen dwarf and secure evidence of the Dark Irons' presence for Ironforge in


[11] Ironband's Compound.
Ad blocker interference detected!
Wikia is a free-to-use site that makes money from advertising. We have a modified experience for viewers using ad blockers

Wikia is not accessible if you've made further modifications. Remove the custom ad blocker rule(s) and the page will load as expected.