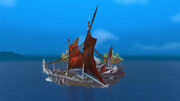 The Iron Reaper[53, 67.6] is one of three Horde ships floating above the Shimmering Expanse. The other two are the Stygian Bounty and Galerek's Remorse. They patrol the waters, keeping an eye on their Alliance counterparts sailing nearby. The Reaper is the closest vessel to the Alliance ships.
Patch changes
Edit
External links
Edit
Ad blocker interference detected!
Wikia is a free-to-use site that makes money from advertising. We have a modified experience for viewers using ad blockers

Wikia is not accessible if you've made further modifications. Remove the custom ad blocker rule(s) and the page will load as expected.