Iron Boot Flask

Use: Assume the form of an Iron Dwarf for 10 min. (1 Hour Cooldown)
"It has a metallic taste..."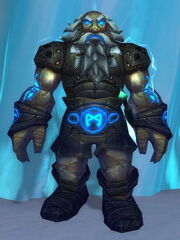 The Iron Boot Flask is a reusable beverage which can be bought from Rork Sharpchin in Frosthold (Alliance) or Olut Alegut at the Grom'arsh Crash-Site (Horde) in the Storm Peaks. It is bought in exchange for 10x [Relic of Ulduar] after completing the prequest(s):
Related achievements
Edit
External links
Edit
Ad blocker interference detected!
Wikia is a free-to-use site that makes money from advertising. We have a modified experience for viewers using ad blockers

Wikia is not accessible if you've made further modifications. Remove the custom ad blocker rule(s) and the page will load as expected.