Intravenous Healing Potion

Item Level

85

Requires level 75
Use: Set up an Intravenous Healing Potion for your party. Restores 15000 health and 12960 mana over 30 sec. Cannot be used in combat. (3 Min Cooldown)
Sell Price: 70
Intravenous Healing Potion is a sort of cauldron which can be used by any player regardless of class and profession. Its purpose is providing a quick recovery after a fight with a party when the healer's services are insufficient or not as readily available as desired.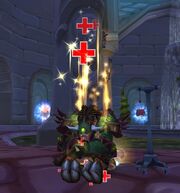 This item can be purchased for 2
70
from Angelique Butler in Dalaran.
External links
Edit
Ad blocker interference detected!
Wikia is a free-to-use site that makes money from advertising. We have a modified experience for viewers using ad blockers

Wikia is not accessible if you've made further modifications. Remove the custom ad blocker rule(s) and the page will load as expected.