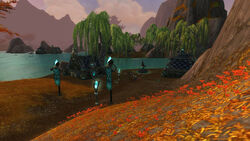 Inkgill Mere is a jinyu village found to the east of Binan Village in Kun-Lai Summit. The jinyu and pandaren apparently have a long history of trading, but the jinyu has suddenly become traitorous and murderous, no doubt under the influence of the Sha of Anger. Indeed, many of the jinyu have been transformed by their rage.
Inhabitants
Edit
Quest givers/enders
NPCs
Mobs
Patch changes
Edit
External links
Edit
Ad blocker interference detected!
Wikia is a free-to-use site that makes money from advertising. We have a modified experience for viewers using ad blockers

Wikia is not accessible if you've made further modifications. Remove the custom ad blocker rule(s) and the page will load as expected.