104,159pages on
this wiki
Talk

5
For the Mage talent, see Incineration.
Incinerate
Usable by
Class
Warlock
Properties
Type
Offensive
School
Fire
Cooldown
 (GCD 1.5 sec)
Talents
Specialization
Destruction
Level required
10

TCG

image
If at first you don't succeed, fry and fry again.[1]
I smell something burning. — Amaxi the Cruel (TCG)
Incinerate is a warlock ability learned at level 10 for those with the Destruction specialization. Replacing [Shadow Bolt], it deals fire damage and generates Burning Embers.
Modified by
Media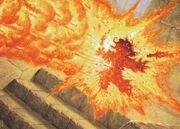 References
External links