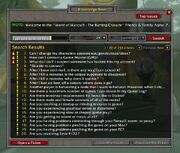 From 0. In-Game Knowledge Base | 10/26/2006 05:46:53 PM UTC by Nethaera:
We're pleased to announce that the Burning Crusade expansion will come fully loaded with an all new in-game knowledge base. This easy-to-use information resource will contain extensive details pertaining to all areas of World of Warcraft. We'd like your help in testing out this knowledge base, which can be accessed by clicking on the "Help Request" option (red question mark) located near the "Main Menu" button.
Be sure to submit any bugs that you come across, as well as suggestions that you believe might be useful by using the in-game bug/suggestion option (blue "B" icon) located near the mini-map on the upper right-hand corner of the screen.
Happy testing!
Ad blocker interference detected!
Wikia is a free-to-use site that makes money from advertising. We have a modified experience for viewers using ad blockers

Wikia is not accessible if you've made further modifications. Remove the custom ad blocker rule(s) and the page will load as expected.