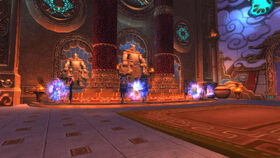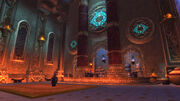 In the map interface, the Imperial Exchange is also named as the upper floor of the Shrine of Seven Stars.
The Imperial Exchange[69, 41] is the portal room within the Alliance-controlled Shrine of Seven Stars[86, 63] in the Vale of Eternal Blossoms. It is found on the upper floor on the eastern side and contains portals to all the major alliance cities, including Shattrath and Dalaran.
Inhabitants
Edit
During the early stages of beta, the Exchange was an Auction House instead. This feature was subsequently removed and portals were put in the auctioneers' place.
Patch changes
Edit
Ad blocker interference detected!
Wikia is a free-to-use site that makes money from advertising. We have a modified experience for viewers using ad blockers

Wikia is not accessible if you've made further modifications. Remove the custom ad blocker rule(s) and the page will load as expected.