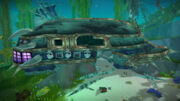 The Immortal Coil[38.5, 30.1] is the sunken ship within Kelp'thar Forest in which Horde players begin their questing in Vashj'ir. NPCs are phased in as players progress in the quest line.

 Erunak serves as an unlabeled innkeeper.
Inhabitants
Edit
Initial phase
Second phase
Final phase
(Empty)
Services (all phases)
Patch changes
Edit
External links
Edit
Ad blocker interference detected!
Wikia is a free-to-use site that makes money from advertising. We have a modified experience for viewers using ad blockers

Wikia is not accessible if you've made further modifications. Remove the custom ad blocker rule(s) and the page will load as expected.