Playable in WoW: Legion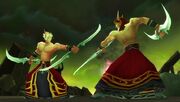 Illidari Demon Hunters were the top demon hunters serving Illidan as part of the forces under his command. The four, three night elves and one blood elf, train initiates and supplicants at the Ruins of Karabor.
A fifth demon hunter at Illidan's service, Leotheras the Blind, does not hold the title of "Illidari Demon Hunter", apparently because he went insane during the training that killed three of his fellow trainees.
Ad blocker interference detected!
Wikia is a free-to-use site that makes money from advertising. We have a modified experience for viewers using ad blockers

Wikia is not accessible if you've made further modifications. Remove the custom ad blocker rule(s) and the page will load as expected.