Illidan's forces[1][2][3] (also called Illidan's army[4][5][6]) consist of various factions that have banded together under the rule of Illidan Stormrage. They are one of the prime enemies of the Alliance and Horde in Outland, the other being the Burning Legion. The Betrayer commands vast armies throughout Outland, and even a few select groups on Azeroth; there are only a few places in the shattered world that are not inhabited by his legions.
With Illidan's death, it's presumed that this alliance of factions has fallen apart and now operate independently.
Composition
Edit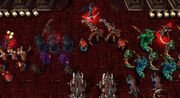 Illidan's armies include:
Former leaders
Edit
Other notable members
Edit
Former notable members
Edit
References
Edit
Ad blocker interference detected!
Wikia is a free-to-use site that makes money from advertising. We have a modified experience for viewers using ad blockers

Wikia is not accessible if you've made further modifications. Remove the custom ad blocker rule(s) and the page will load as expected.