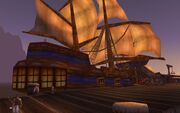 The HMS Theramore is a human vessel owned by Puff and the guild in Illegal Danish, on which Puff sings a song of the same title. His song begins boarding the boat docked in Menethil Harbor. It's current location is yet to be unvieled. On board, the kitchen is filled with beer, which the dwarves tend to drink quite a bit.
In reality, the boat is actually the Lady Mehley
At no point does the boat ever dock in game. It is a fictional boat.
Ad blocker interference detected!
Wikia is a free-to-use site that makes money from advertising. We have a modified experience for viewers using ad blockers

Wikia is not accessible if you've made further modifications. Remove the custom ad blocker rule(s) and the page will load as expected.