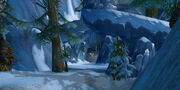 Icewing Cavern is a cave located west of Icewing Bunker. It is the proving ground for Alliance players to prove their allegiance to the Stormpike Guard. The cavern is filled with Snowblind harpies. There is also an elite Alterac Yeti, however, he does not stand in the way of anybody passing through for the quest.

 [60] Proving Grounds
Ad blocker interference detected!
Wikia is a free-to-use site that makes money from advertising. We have a modified experience for viewers using ad blockers

Wikia is not accessible if you've made further modifications. Remove the custom ad blocker rule(s) and the page will load as expected.