Hunter sets
102,924pages on
this wiki
Talk

2
Classes

e

Class races
Dk
Dr
Hu
Ma
Mo
Pa
Pr
Ro
Sh
Wl
Wr
Quests
Dk
Dr
Hu
Ma
Mo
Pa
Pr
Ro
Sh
Wl
Wr
Abilities
Dk
Dr
Hu
Ma
Mo
Pa
Pr
Ro
Sh
Wl
Wr
Spec
Dk
Dr
Hu
Ma
Mo
Pa
Pr
Ro
Sh
Wl
Wr
Talents
Dk
Dr
Hu
Ma
Mo
Pa
Pr
Ro
Sh
Wl
Wr
Trainers
Dk
Dr
Hu
Ma
Mo
Pa
Pr
Ro
Sh
Wl
Wr
Glyphs
Dk
Dr
Hu
Ma
Mo
Pa
Pr
Ro
Sh
Wl
Wr
Builds
Dk
Dr
Hu
Ma
Mo
Pa
Pr
Ro
Sh
Wl
Wr
Tactics
Dk
Dr
Hu
Ma
Mo
Pa
Pr
Ro
Sh
Wl
Wr
Armor sets
Dk
Dr
Hu
Ma
Mo
Pa
Pr
Ro
Sh
Wl
Wr
Starting a
Dk
Dr
Hu
Ma
Mo
Pa
Pr
Ro
Sh
Wl
Wr
PvE
Dk
Dr
Hu
Ma
Mo
Pa
Pr
Ro
Sh
Wl
Wr
PvP
Dk
Dr
Hu
Ma
Mo
Pa
Pr
Ro
Sh
Wl
Wr
Macros
Dk
Dr
Hu
Ma
Mo
Pa
Pr
Ro
Sh
Wl
Wr
A hunter set refers to a collection of equipment with a hunter class restriction that provides an additional bonus when worn together or simply are desirable from a Transmogrification standpoint.
Dungeon sets
Edit

Tier sets
Edit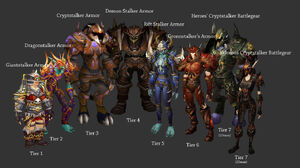 Faction sets
Edit


Alliance
Horde
Alliance and
Horde Arena Reward
Hunter set lookalikes
Edit
These 'sets' do not have a proper name and offer no set bonuses. They do however present a unified look and carry hunter-friendly stats.
Generic mail armor sets
Edit
This section discusses unique-looking weapons that are available to hunters. In particular Guns, Crossbows, and Bows. These weapons may be interesting from a Transmogrification standpoint.
Bows
Golden Bow of Quel'Thalas

Black Bow of the Betrayer

Sunfury Bow of the Phoenix

Melmorta's Twilight Longbow

Bristleblitz Striker

Lohn'goron, Bow of the Torn-Heart

Heartstriker

Siren's Cry

Skyfire Hawk-Bow

Avalanche

Ancient Bone Bow

Crypt Fiend Slayer

Njorndar Bone Bow

Zod's Repeating Longbow

Zod's Repeating Longbow Heroic

Accursed Bow of the Elite

Wrathtide Longbow

Arrowsong

Golemheart Longbow

Overpowered Chicken Splitter

Starbolt Longbow

Titanium Compound Bow

Drakkari Hunting Bow

Brutal Gladiator's Longbow

Huhuran's Stinger

Bow of Taut Sinew




Stat gear lists
Edit
Hunter sets
This article or section contains information that is out-of-date.

Please replace the old information with up to date information.
This may include rewriting sections to ensure they are clear and concise, and wikifying.
Armor sets
 

Level 60
Dungeon
Faction
Raid
PvP
Non-class
Crafting
 

Level 70
Dungeon
Raid
PvP
Arena
Crafting
 

Level 80
Raid
Arena
Crafting
 

Level 85
Raid
Arena
 

Level 90
Raid
Arena
Challenge Mode