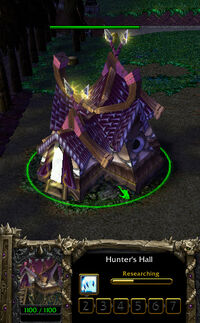 A hunter's hall is a place where the materials of war are imbued with the night elves' mystical enhancements. Wood and steel are fashioned into the stout armor using established traditions and methods stretching back thousands of years, as the spirits of the Ancient Guardians are invoked and their blessings bestowed upon each completed work.[1] (W3Man 60)
Ad blocker interference detected!
Wikia is a free-to-use site that makes money from advertising. We have a modified experience for viewers using ad blockers

Wikia is not accessible if you've made further modifications. Remove the custom ad blocker rule(s) and the page will load as expected.