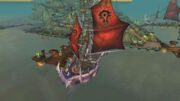 The Hull of the Foebreaker[53, 46] is docked on the northern side of Bilgewater Harbor in Azshara, constantly worked on by Bilgewater Dockworkers.
It seems that construction of the ship has fallen woefully behind schedule, and players are tasked with figuring out why. Goblins being goblins, it could be anything, running from conflicting orders by too many bosses to ripping out important parts to save money.
Patch changes
Edit
External links
Edit
Ad blocker interference detected!
Wikia is a free-to-use site that makes money from advertising. We have a modified experience for viewers using ad blockers

Wikia is not accessible if you've made further modifications. Remove the custom ad blocker rule(s) and the page will load as expected.